It's 2020 and most E-Commerce businesses don't take Pinterest as part of their marketing on social media. According to statistics, Pinterest is now the third-largest social network in the US. Data shows that users spend 50% more than competitor sites, such as Instagram or Facebook.
Not to mention, 90% or more of Pinterest buyers are brand-new to the merchant site, making their traffic very exciting.
Why use Pinterest?
Due to the visual appeal, Pinterest helps in showing off your products to customers online than ever before. According to Pinterest, their Lens feature can identify over 2.5 billion home and fashion objects.
You can also create links between product pages, websites, and social accounts while displaying your products to those who want to buy them. That means your products are seen in more places, by more people.
What Type of Businesses Should Use Pinterest?
Any E-commerce business can thrive and benefit from the use of Pinterest platform, whether you sell clothes, foods, a gym instructor
Service based small businesses can take advantage of Pinterest's large following and diverse market to showcase their business.
Content creators also have a considerable advantage on Pinterest. DIY, crafting, fashion, and cooking are all hot topics on this popular site.
Although B2C businesses have a clear advantage on Pinterest, B2B companies can also see a considerable benefit if their target audience overlaps with Pinterest's users.
Who are the Consumers on Pinterest?
According to Pinterest, women are dominant on the platform and they control most food, drink, style, and beauty purchases. That means that their pins, boards, and suggestions carry real weight in the way households spend money.
New data shows that more than 50% of new signups are men. The majority of Pinterest users fall between the ages of 30 and 39. That demographic is followed closely by the 18-29 age group, making up 34% of Pinterest's users.
Pinterest has over 320 million monthly users. Though their users are mainly in the US, their global reach is continually growing.
How to Sell Products on Pinterest
With your page already set up, it's time for you to start selling, which means you need to link and verify your website to set up Pinterest e-commerce products. Keep in mind you can only verify one website with a Pinterest business account.
If you want to use a data source, you can create catalogs that will upload your entire product library to Pinterest all at once. Not all brands will have the right data sets to use this feature.
Rich pins is a way to pull metadata directly from your website and into Pinterest. You will have to upload each Pin individually.
Rich pins make mobile app users search in a "shop" view, click on their favorite pins and then click on blue shop button that directs them to a product page and checkout.
You can also use Promoted Pins to increase your reach and following. With promoted pins your pins are pushed to the top of your user's feed whereby people see your content more.
It is a good way to drive traffic to your website, target your choice demographics, boost engagement and duration you want
Promoted pins look the same as regular pins, but they will say "Promoted" at the bottom.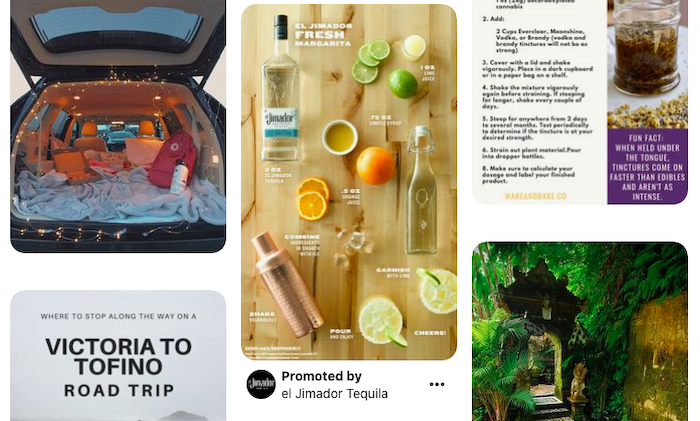 How to Drive Sales with Pinterest E-commerce
As with every other social media platforms, we all want to make sales and there are a few things you can do to make your strategy work on Pinterest.
First, make sure to design your pins with shareability in mind. Infographics, relatable quotes, and DIY projects make for great Pinterest content.
Text overlays can be an effective way to lead your audience into your post. Try using an interesting quote to encourage clicks and interactions.
The top-five most popular Pinterest categories are:
Travel
Health & Wellness
DIY
Women's style
Beauty
Video pins are often in Pinterest's top results, so intersperse your content with videos and animated graphics.
Using video pins also allows you to showcase your products in real-time, as consumers would use them. That can go a long way in converting your audience.
Next, it's essential to create a sense of community around your brand.
All across the internet, people are looking to connect.
It isn't enough to have the best product. You have to have the best community.
Brands that engage with their communities, and receive engagement back, have a better chance of growing and selling through online retailers.
Tactics like posting UGC (user-generated content), using influencer marketing techniques, and creating group boards, will help grow your community and bring more engagement to your brand.
Additionally, staying on top of your analytics will help you track your user data so that you can better understand your audience's interests, wants, and needs.
Pinterest Analytics lets you see which pins drive the most clicks, what kind of audience you are attracting, and which categories bring in sales.
You've heard it before–don't ever sleep on your analytics.
Conclusion
With the above you can see that Pinterest created the E-commerce feature for brands to succeed on their platform, so make sure you don't miss opportunities on there.
You have quick-funnel options, reactive buying promises, and plenty of ways to increase engagement and awareness, Pinterest e-commerce is where your brand should be.